Quality graphic design can help you stand out.
Written on the 29 November 2021 by VB Designs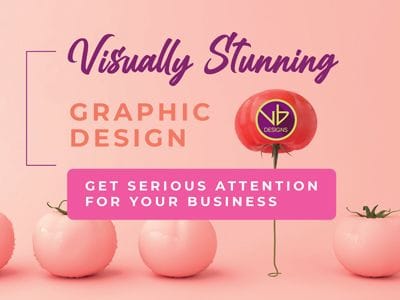 There is so much noise when it comes to advertising, and it can be easy to feel lost in the crowd when it comes to getting your business in front of your clients.
According to the Yellow Social Media Report in 2018, more than half of the small businesses (51%) and medium businesses (58%) in Australia have a social media presence. When it comes to actively advertising on social media 34% of small business and 49% of medium businesses have jumped on board. That's a lot of noise to compete with and there's no chance of your competition slowing down.
So how do you stop blending in and blast out in front?
Eye-catching graphic design helps!
Quality graphic design has endless possibilities and can be the difference between being visible or invisible. Poor design can have the effect of forcing potential customers to look elsewhere. Think about it, if your design looks cheap, then what will your consumer think of your products and/or services? Chances are they will think your business is cheap and walk straight to the arms of your competitors.
On the other hand, quality graphic design can have amazing benefits to your business. In this article, we explain why you need to invest in quality graphic design for your business and it's not as complicated as you think.
Help's build trust
What people see of your brand, wherever they see it, will influence their perception of your business and the value you offer them. You want to be seen as a legitimate, credible, and trustworthy business worthy of their time and attention.
Graphic design can help you build trust with your customers. It can build rapport and understanding between you and them. Graphic designers are communicators who can create a sense of authority in people's minds. The ability to communicate clearly is one of the most important things to ensure you stand out from the crowd and be taken seriously as a 'real' business.
Be seen as a leader
To be seen as a leader in your industry you need two things:
Credibility and Authority - quality graphic design gives you both
Quality graphic design allows you to build credibility through consistency of your brand message across your marketing channels. It provides a professional appearance, and influences the perception of authority around your brand, service and/or product.
When you have a professional visual brand identity with quality graphic design across your marketing channels, people are more likely to take your business seriously and be more willing to spend their money with you as they can trust that you are an expert in your field who walks your talk.
Visuals rule the senses
Graphic Design is more than an art, it's a science too. According to various studies (Brain Rules) when people hear a piece of information, they will remember 10% of that information 3 days later. However, when images are paired with the same information people retain 65% compared to 10%. Oh, the power of visuals!
Graphic design has the power to not only make a good first impression, but to also stay front of mind with your customers days after your business information was put in front of them. In today's marketing there are many channels you can reach your clients, by having a recognisable, professional and consistent branding message with your logo, brochures, business cards, and banners across both online and offline channels. Allows your business to be remembered and stand out from the rest.
Increase your sales
A relatable and rememberable graphic design for your business can influence how customers perceive your company both now and in the future.
By being in front of your customers' minds will have a natural flow on effect for your sales. Quality graphic design will help you to stand out and make people see you as not only a real business, but a leader in your industry motivating them to want to engage your services or buy your products.
Graphic design has been an important part of larger businesses for years. With so much competition, and numerous other options available to consumers, quality graphic design is becoming an even larger deciding factor in people buying from you instead of Joe Blow. No matter what type of business you are trying to market, having powerful and connectable graphic design to your product or service will give you a competitive edge.
So, let's level up your design game, shall we?
If you'd like help standing out from the crowd, contact us at VB Designs. The VB Designs team provides a 360-degree graphic design solution - starting with design ideas and concepts, through to creation, printing, and delivery. We have proudly helped businesses across Brisbane, the Gold Coast, Australia and even New Zealand to stand out from the crowd and be remembered!
We can support your business as a once off project or you may want to consider one of our monthly graphic design packages.
You can contact us to arrange your complimentary branding strategy call by emailing us at info@vbdesigns.com.au