Why your brand is so much more than your logo
Written on the 24 October 2021 by VB Designs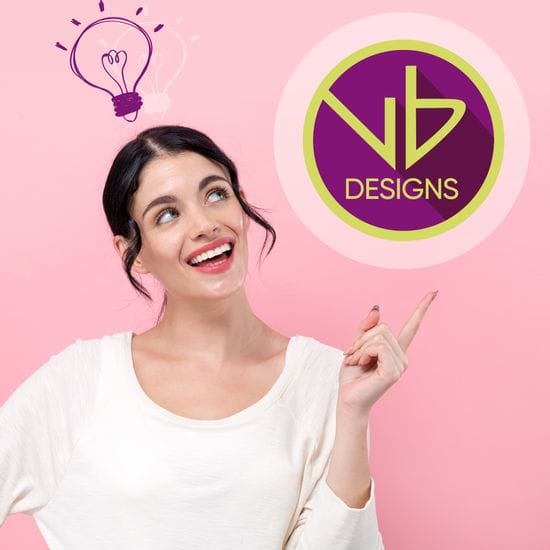 That small image that graces the top of your website and tells visitors what your business is about. It may be small, but it is quite a big deal. It has the responsibility of representing your brand, therefore, a lot of thought and care needs to go in to designing it. This is where graphic excel! Graphic designers are specialists at logo design, and can choose the right colours, fonts, shapes and style to design your logo to convey your brand to connect with your target audience.
Your brand is built on a lot more than your logo design.
Many people get caught up in thinking that their logo should say everything about their business. Sure, there are many businesses that do this - think Pizza Hut, Cartoon Network or even us, VB Designs, but keep in mind this isn't the only element of your brand that communicates with your customers.
Think of companies like Nike, Nestle and of course Apple. While big examples, none of these brand names or logos state what they do as a business. Nike is just Nike not Nike Shoes and shoes do not feature anywhere in their logo. Yet, someone says Nike, or you see the 'tick' and you immediately know who they are and what they do. You might even feel a certain way when you watch a Nike ad or try on their shoes or clothing.
Logos are the spark – your brand is the fire!
Logos are important, they spark people's memories and ignite a feeling - the feeling of your brand. Your brand is everything combined; your colours, imagery and visuals, messaging, logo, product or service, packaging, - it's the whole experience. These brand elements combined create a feeling, perhaps a feeling of warmth or sincerity like Campbell's Soup, or fun and adventure like Contiki.
Your brand showcases what you do, why you do it and how you help solve the problems of the world. Your brand is essentially your business as a real live person. Just as people make us feel a certain way, so do brands.
Using Graphic Design to showcase your brand.
Graphic design is much more than logo design. It is about showcasing your brand identity, creating an experience for customers that reflects your values, products and/or services and your ideas. Great graphic design visually tells the story of your brand for consumers to connect with. Your designs should capture the attention of your customers and leave them wanting to find out more about your business.
The visual design elements of your brand should be consistent across every channel of communication with your customers. Think about the customer touch points, where do your customers see your brand and what experience are they receiving? Your website, social media accounts, emails, business cards, brochures, flyers, catalogues, etc. all communicate with your customer and need to be considered and consistent.
Your logo design is just one part of your brand's visual identity and by engaging a graphic designer, who specialises in logo design as a part of an entire brand identity, could be the difference between capturing or losing your ideal customers interest and spend.
If you'd like help with your logo design and branding, contact us at VB Designs. The VB Designs team provides a 360-degree graphic design solution - starting with design ideas and concepts, through to creation, printing and delivery.
You can contact us to arrange your complimentary branding design strategy call by emailing us at info@vbdesigns.com.au
Find out more about our Branding Packages
here
.